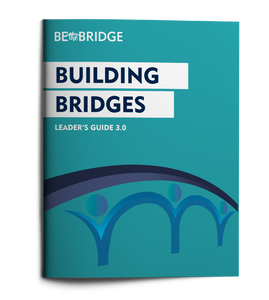 Building Bridges: Leader's Guide 3.0
Access to video discussions
The 3.0 Discussion Guide is designed to lead a multi-racial group of 6-12 people through a 10-session study on the key steps in the racial reconciliation process: Awareness, Acknowledgement and Lament, Shame and Guilt, Confession, Forgiveness, Repentance, Making Amends, Restoration, and Reproduction.
The Leader's Guide provides helpful suggestions about group selection and structure, shepherding a group through difficult topics, preparation for group times, and additional background information on each session. 
Group leaders, gather your people and learn how to build bridges. This edition Incorporates readings from Be the Bridge by Latasha Morrison.

You are purchasing a single-user license of the guide that includes downloading and printing for individual, personal use. Printing multiple copies to share with others, or sharing the PDF file electronically with others, is not permitted.