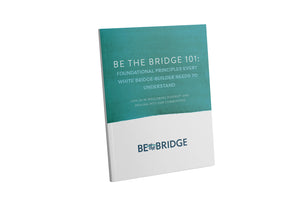 When it comes to racial bridge-building for white people, Be the Bridge places a lot of the focus on listening to and learning from people of color. There is also some important internal work that white people need to do. When white people do not understand some of the basic tenets and history of whiteness, it's hard to fully engage in the work of racial reconciliation.
For this reason, we have created a resource that breaks down the Four W's:
1. White Supremacy
2. White Fragility
3. White Identity
4. White Privilege
This guide is highly recommended for all white people before joining a Discussion Group.  Be the Bridge 101: Foundational Principles Every White Bridge-Builder Needs to Understand (formerly Whiteness 101) is available as a downloadable PDF for $10. Once you order Be the Bridge: 101, it will be immediately available for download via the payment confirmation screen.
You are purchasing a single-user license of the guide that includes downloading and printing for individual, personal use. Printing multiple copies to share with others, or sharing the PDF file electronically with others, is not permitted.