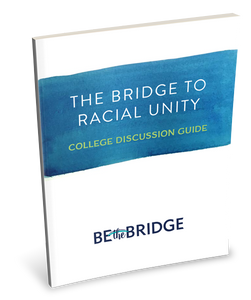 Do you have a heart to help heal racial division in our country and on your campus? Do you desire to work toward racial unity, but don't know where to start? Have you ever wondered what the Bible might have to say about racial reconciliation? The BTBU Discussion Guide & Leader's Guides might be just the tool you are looking for.
The College Discussion Guide is designed to lead a diverse group of 3-12 people through a 9-session study on the key steps in the racial reconciliation process: Awareness, Acknowledgement and Lament, Guilt and Shame, Confession, Forgiveness, Repentance, Reparation, Restoration, and Reproduction. Each session involves studying a passage of Scripture, reading background information, sharing personal experiences (and listening to those of others), and prayer. Between sessions, group members are expected to complete educational and experiential homework assignments.
The Bridge To Racial Unity College Discussion Guide is available as a downloadable PDF for a donation amount of $10 or more. Once you order the Discussion Guide 2.0, it will be immediately available for download via the payment confirmation screen. You are purchasing a single-user license of the guide that includes downloading and printing for individual, personal use. Printing multiple copies to share with others, or sharing the PDF file electronically with others, is not permitted.