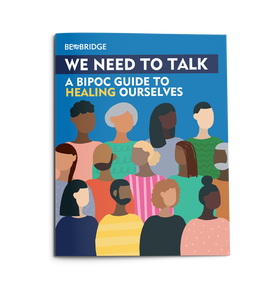 This BTB guide was created by people of color for people of color to engage in transformative and healing conversations.
We have got to have some tough conversations about the way white supremacy has divided us. We must create brave spaces to discuss internalized racism, classism, colorism, and how we can find true healing. This need to center our experiences, our role in the dismantling of white supremacy and collective healing as BIPOC is the motivation behind the creation of this discussion guide. We Need to Talk offers a starting place for some of the essential conversations we must have with each other so that we can unpack the ways that we have also harmed one another under the force of white supremacy.
Whether you are meeting with a small group of friends, in person or online, this is a conversation we must have together.
This guide includes historical information, anecdotes from BIPOC and discussion questions.

SESSION 1:  What  Is Race?            
SESSION 2:  Internalized Racism        
SESSION 3:  Colorism         
SESSION 4:  Classism and the American Gospel of Upward Mobility  
SESSION 5:  Interracial Prejudice       
SESSION 6:  Self-care for POC in a World that Centers Whiteness 


The 50-page guide also includes a section to help group leaders in their discussion
sessions.
This is a downloadable PDF.  You are purchasing a single-user license that includes downloading and printing for individual, personal use. Printing multiple copies to share with others, or sharing the PDF file electronically with others, is prohibited.  Please contact support@beabridgebuilder.com for information about group licensing and group discounts.  This is a digital item that cannot be returned or exchanged.